The beautiful and locally well known statue "The Reader" is situated in front of the city library in Wangen, South Germany.
The 1.7 metre artwork was donated by the Fröhlich family and was presented to the public in 1990.
A high density documentation survey was carried out, performing nine scans at high resolution and colour implementation using the Z+F M-Cam solution.
From this a 3D solid mesh was created using Geomagic 2012.
The results produced, shown on the right, concluded in a high level of detail due to the 1.2 million triangular surfaces. This example provided evidence of the capabilities and possibilities of the phased based system, even performing well at extreme short range, outside it's design capabilities and normal work environment.
During the project workflow, the 1100 MB of raw input data was subsiquently down sampled to 170 MB for ease data processing. Overall time necessary for project completion amounted to less than four hours. A video detailing the scanning project is available on our YouTube channel and the 3D model can be downloaded from our website www.zf-laser.com.
Applying the rapid prototyping technology two physical solid models were obtained (one colour, one plain) from the digital model. The model has been downscaled to a 35 cm height and the mesh has been extruded to a thickness of 2 mm.
Furthermore special postcards with a QR-code and a 3D drawing of the model was created. Scanning the QR-code will forward you to download the free app of the case study.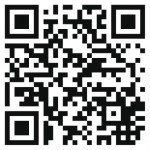 Starting the app and pointing your iPhone or Android smartphone to the postcard (please see page two of the PDF) will display a 3D model of "The Reader" on your smartphone screen. By twisting and turning the postcard you can view the model from all angles. With this augmented reality project, Z+F are able to carry out a highly innovative concept which can be applied to numerous applications within the laser scanning industry.
in collaboration with: